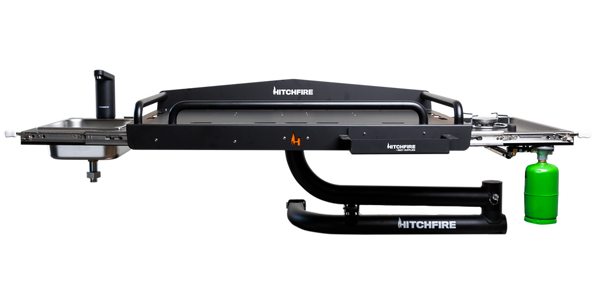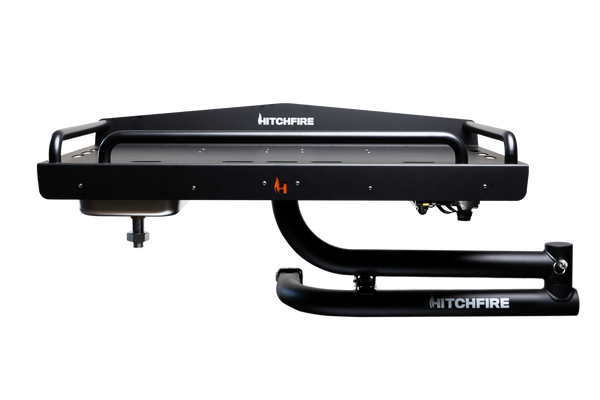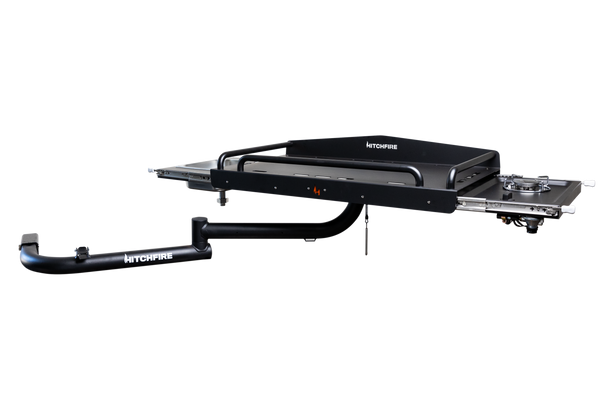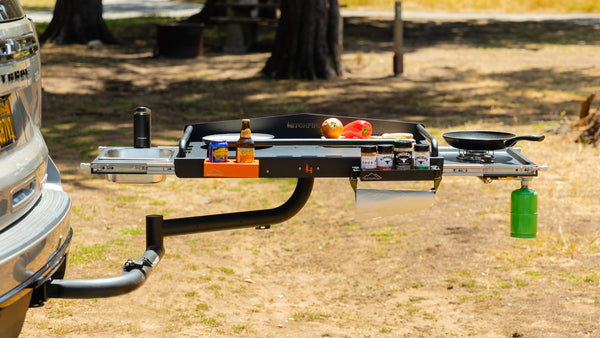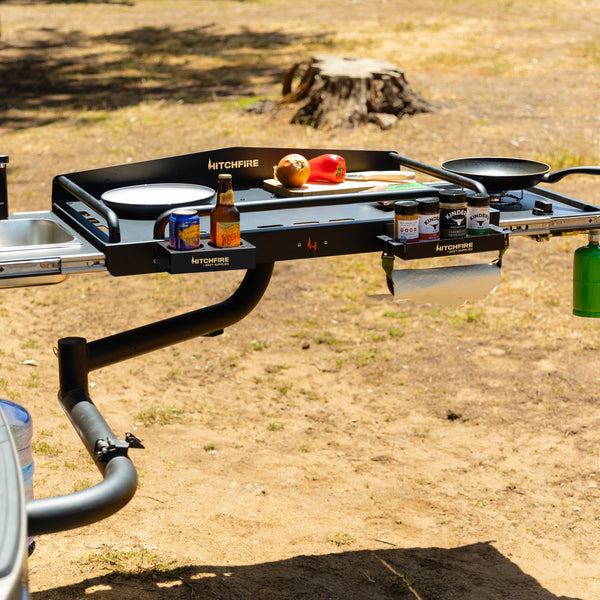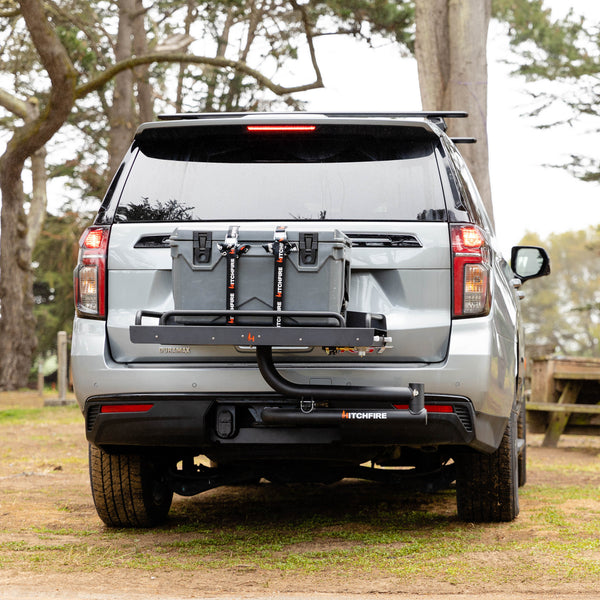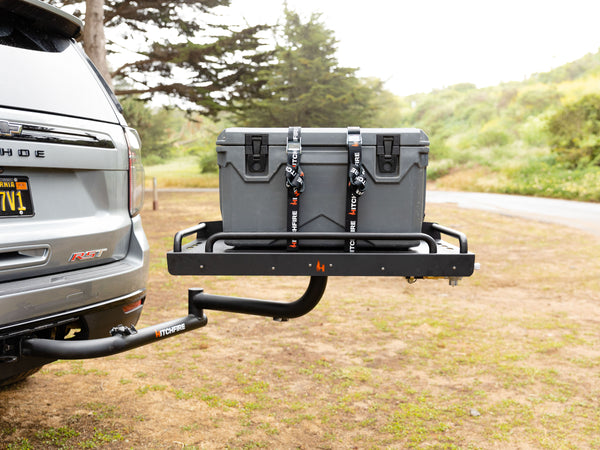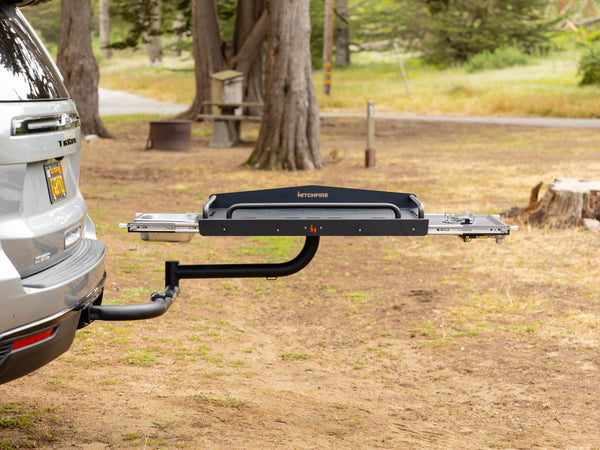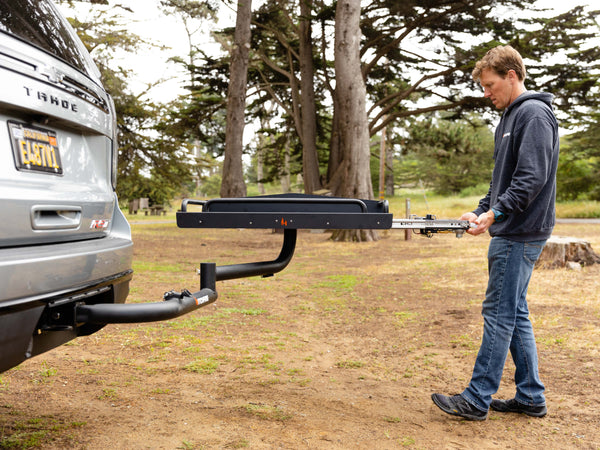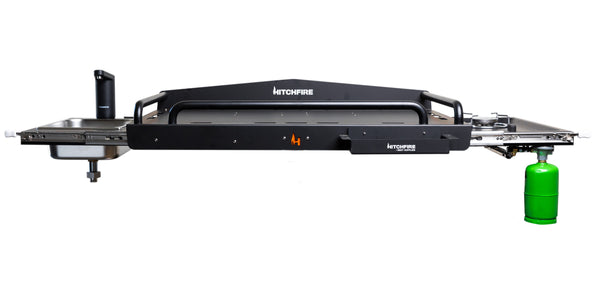 Features

COOK STATION FEATURES

ULTIMATE COOK STATION FEATURES 
The Cook Station is the ultimate hitch mounted dual-purpose cargo and cooking solution. Built on the Ledge XL Cargo Platform, the Cook Station boasts a 38 x 24" storage and food prep surface and a slide-out sink basin and single burner stove. The Cook Station utilizes our exclusive swing arm for easy access to the back of the vehicle while the stout removable side rails and integrated mounting points allow you to store your cooler, jerry cans, firewood and more outside your vehicle. The sink basin can be used with gravity water system or can be paired with a Dometic Go rechargeable electric faucet. 
Designed to open a world of possibilities, the Cook Station provides a durable portable kitchen solution and maximizes your cargo carrying capabilities. From weekend getaways to the roughest overlanding adventure, HitchFire is redefining Life at the HitchTM. 
Dimensions inside rails - 34.5" x 19"
VERSATILE CAMP KITCHEN: This versatile storage platform and outdoor camping kitchen is complete with a slide out sink, slide out gas burner and mounting points for straps and hooks.

 

PORTABLE HITCH TABLE: This travel friendly hitch mounted table measures 38 x 24". The arm that holds the ledge will fit into a 2" square receiver and swivels away from your vehicle and locks in place.

 

CARGO CARRIER: With a 34.5 X 19" surface inside the perimeter rails, the steel carrier secures luggage, coolers, firewood and other large, bulky items. Maximize your cargo capacity while having easy access to the back of your vehicle with the 180

°

swing arm.

 

SAVE SPACE: Our patented hitch technology allows our Cook Station to be safely transported anywhere while hitched in. The removeable rails allow the steel platform to be used as a food prep station, table or carrier.

 

WARRANTY: HitchFire stands by the products we made. We offer a 2-year warranty on our Cook Station. If there is an issue with your product, contact us and we will provide you with a resolution.
• 38" x 24" surface 
• Mounting holes for straps and hooks
• Slide out Sink Basin
• Slide out single burner stove
ULTIMATE COOK STATION FEATURES 
• 38" x 24" surface 
• Mounting holes for straps and hooks
• Slide out Sink Basin
• Slide out single burner stove
+ Dometic Go Battery Powered Faucet
+ 1lb Propane Refill Kit
+ Eezy Supplies Rig Caddy Cup Holder & Tray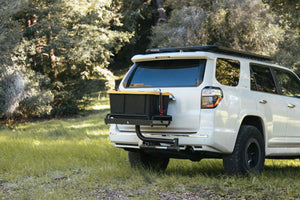 Expand your storage
When it comes time to pack, every vehicle only has so much room. The Ledge Platform provides extra storage outside of your vehicle so nothing gets left behind.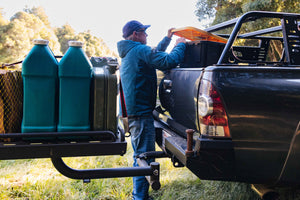 Tailgate access
No need to unload your Ledge to access the back of your vehicle. The proprietary HitchFire swing arm allows for easy access to the trunk or tailgate.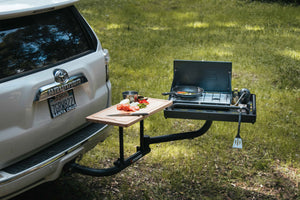 More than a storage solution
Cook on a stovetop, setup your laptop, or fire up a smoker, the large flat surface of the Ledge doubles as a work surface.