Standard Steel Camping Table
Weighs just under 13 pounds

Easily holds 50 pounds

Stable and level regardless of the ground conditions

Retractable leg for extra support.  Use straight or angled towards tire / rim

Will fit a 25" tall tire up to a 40" tall tire
The rear slider opens up enough to fit a 15 1/2" width tire
The rear slider can be flipped over to get a better grip on the rear of the tire
The rear slider & back of the table must engage the tire for a snug fit

If your fender is extremely close to the tire, it may not fit

No tools or hitch required for installation.  Installs within seconds

23" W x 29" L x 1.5" high (add additional 1.5" high for the rear slider)

Powder coated finish

All parts are included and are stored on table, including t-bolts

Not meant to be used as a seat or a step
Great for Outdoor Vehicle Adventures:

Overland Excursions
Tailgating
Camping
4 Wheeling
Hunting
Fishing
Car Travel
Car picnics
RV'ing
Motorhomes
Fishing
Biking
Construction Sites
Automotive Work
Design by TGTT in Nevada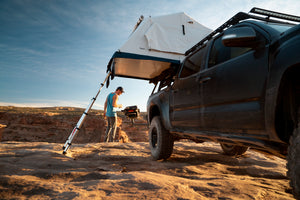 Grill Anywhere
From the beach, to sporting events, to the mountains, grill wherever your vehicle can go. Quick and easy setup allows you to get grilling in just a few short minutes, without the mess.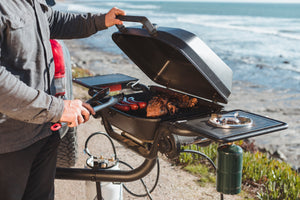 Food for the whole family
With a large 18"x22" grilling area, there's plenty of room to cook for the whole family and a few friends.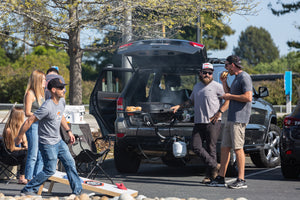 Leave the mess behind
Our proprietary swing arm lets you leave the grill and it's mess outside your vehicle, leaving more room inside for clean cargo.